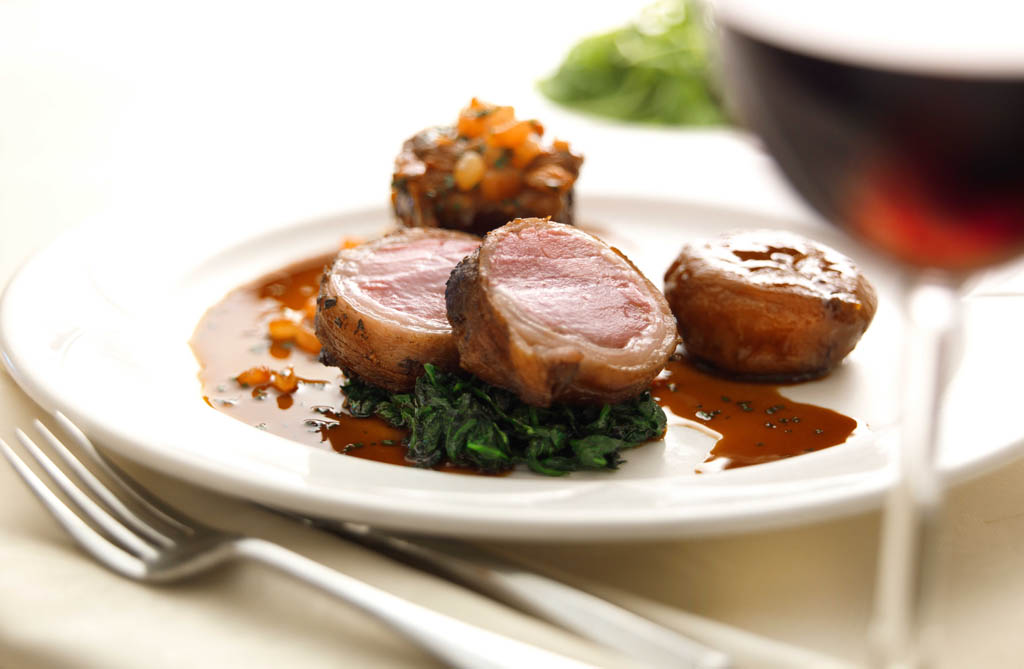 Early training with some great head chefs in luxury hotels and restaurants across the UK gave me a real understanding of technique and the classics.  My time in Australian seafood restaurants stirred my passion and knowledge of great fish cookery. We now marry these fundamentals with modern techniques to deliver simple food with great flavour. 
All our meat and fish is carefully sourced, locally where possible, to ensure that we can deliver the very finest flavours.  Our sauces are derived from the stocks that we make throughout each week.   We smoke our meats, fish and vegetables in-house – whether it's duck, chicken, mushrooms or freshly caught salmon we know what flavours work.  Our bread and brioche are baked here daily, we make all of our canapes as well as the petit fours & chocolates that we serve with our coffees.
Using the freshest seasonal ingredients, we change our menus regularly and in addition offer a selection of daily changing dishes.   Our sample menus below give you an insight into the types of dishes you can expect to find at The Venture In.
We believe that the quality of our food should be matched by a well-balanced reasonably priced wine list. The choice of wines at The Venture In is therefore both comprehensive and carefully chosen to complement our menu.
Over our years at The Venture In we've been lucky to build up a team of passionate and supportive suppliers, local where possible.  
Tanners Wines – Shrewsbury
Knightwick Butchers ( local beef, lamb, poultry, & cured meats)
Tudor Seafoods – Birmingham fish market (fish & shellfish, vegetables)
Harvey Brockless – Broomhall ( cheese, cured meats, oils & flours)
Ritters Courivaud- Swindon (wild mushrooms, game, speciality dry goods)
George Mole – Hartlebury  ( local asparagus)
Toby's Kitchen garden – Ombersley ( homegrown herbs, fruit and vegetables)
If you or a member of your group has an allergy, intolerance, or any other special dietary requirements, just let us know when you book, and our team will do our best to accommodate on the day. Not all ingredients are listed on the menu and, due to the nature of our small kitchen, we cannot guarantee the total absence of any allergens. Detailed information on the fourteen legal allergens is available on request, however we are unable to provide information on other allergens. Whilst we have a small restaurant and a concise menu we always offer a vegetarian option, however we are unable to cater for a vegan diet.